Will your income increase 5% this year?
Because your real estate tax will increase 5%.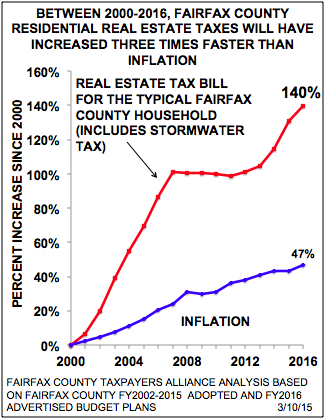 For the last fifteen years Fairfax County residential real estate taxes have increased, on average, five percent each year. Last year's increase was seven percent.
The County Executive has already floated a 5.5 percent tax increase for this year.
County supervisors want you to believe that higher school enrollment and increased county population drive tax hikes. Not so. As a result of the Fairfax County Taxpayers Alliance participation in the recent county Meals Tax Task Force, it became evident that seventy percent of tax hikes are for raises and benefits.
For the past fifteen years the average raise for ALL school and county employees was about four percent each year. In the private sector, only a handful of top employees would get four-percent raises.
School and county employees have zero-deductible in-network health plans. Private employers are switching to high-deductible health plans. School and county pensions allow retirement at age 55 with 75 percent of salary. Private employers are dropping pensions.
Like you, we want generous compensation for teachers, police, firefighters, and all public servants. But do you think that the supervisors are striking the right balance between taxation and compensation? If not, please contribute to the Fairfax County Taxpayers Alliance. Help us publicize this message before the 2015 supervisor elections. No incumbent or candidate, Republican or Democrat, is addressing this issue, but they will if you respond to this ad. The number of contributions is more important than the contribution amount.
Let's stop 5% real estate tax hikes.
Join the Fairfax County Taxpayers Alliance.